No Rust Colorful Theme Interactive Water Play High- Intensity Fiberglass Water Park Equipment
Cowboy is a leader in water park equipment and sprays park design, fabrication, and construction. water park equipment photo While pioneering completely integrated water recirculation systems, the company provides a sustainable solution that enables countless hours of innovative activity without water consumption limits. Now they are entering a whole new realm. By joining forces with leading water park equipment manufacturer Landscape Structures Inc., Cowboy will apply the design and innovation they are known for to the creation of imaginative and new water play experiences. High-intensity fiberglass water park equipment never rust, If you want to know more information, please contact with us: Cowboy@cowboywaterpark.com
They focus on designing interactive never rust water parks and water park equipment that encourage children to experience water in unique ways. From spray canons to dumping buckets, ground sprays and a host of above-ground spray features and games Cowboy's water park equipment products provide a sensory-rich, inclusive, nature play experience in water for children of all ages and abilities. Cowboy offers versatility by being a unique water play design and engineering company that utilizes both stainless steel and fiberglass materials.
Cowboy as a senior water park equipment manufacturer, we use advanced technology to ensure that the entire product is rust-proof, corrosion-resistant, environmentally friendly, healthy, and harmless.
1: Interactive Water Play Introduction
Cowboy colorful theme interactive water park equipment, specially-designed play structures that engage children of all ages. Play structures and interactive elements allow hundreds of people to join in on the fun at one time. spray features can be placed in separate areas for preschoolers and older children to age 12. Individual components can be arranged to create a unique tropical playland. Rich and colorful designs hold great attraction for children. May be used in shallow pools with a depth of 12inches (300mm). The highly interactive exciting environment with various water flow patterns and interactive water jets
– Perfectly shiny & smooth finish on both sides
– Aesthetically superior product
– Stronger & lighter water parks
– Homogeneous thickness distribution
– Perfectly smooth joints
– Environmental friendly
– Easy maintenance
– Available in translucent colors
– To sum it up, we obtain superior water parks both aesthetically and physically in less time and with less waste.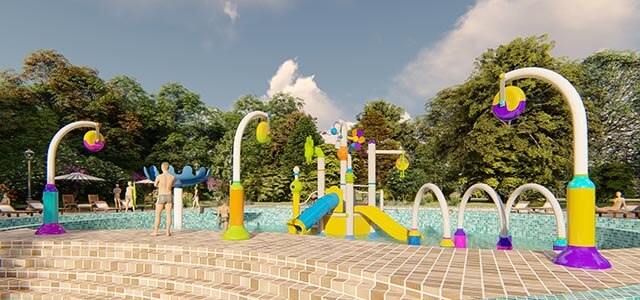 2: Autoclave Forming Technical Processes:
Mold preparation: Mould be slightly wiped clean by soft material, check if it is air leakage. Then spray release agent on the mold.
Cutting and adding: cut the prepreg material with protective film as a pattern, pay attention to the fiber direction of the material, then take off the protective film of prepreg material. According to the order and direction to laid prepreg one by one, each layer should be pressed firmly by rubber roller, drive air out.
Assembling sandbagging: on the mold assemble all prepreg material and other accessories and put into bag, check if the vacuum bag is good and well sealed.
Hot pressSolidification: put the bag assembled into an autoclave, connected with vacuum pipeline, close autoclave, then process as technical required conditions by steps of vacuuming/heating/pressing and solidification;
Leaving out of autoclave and demoulding: after solidification, wait the vacuum bag go down to room temperature, take it out of the autoclave, take off all the accessories, then take the products out, trimming and finishing it.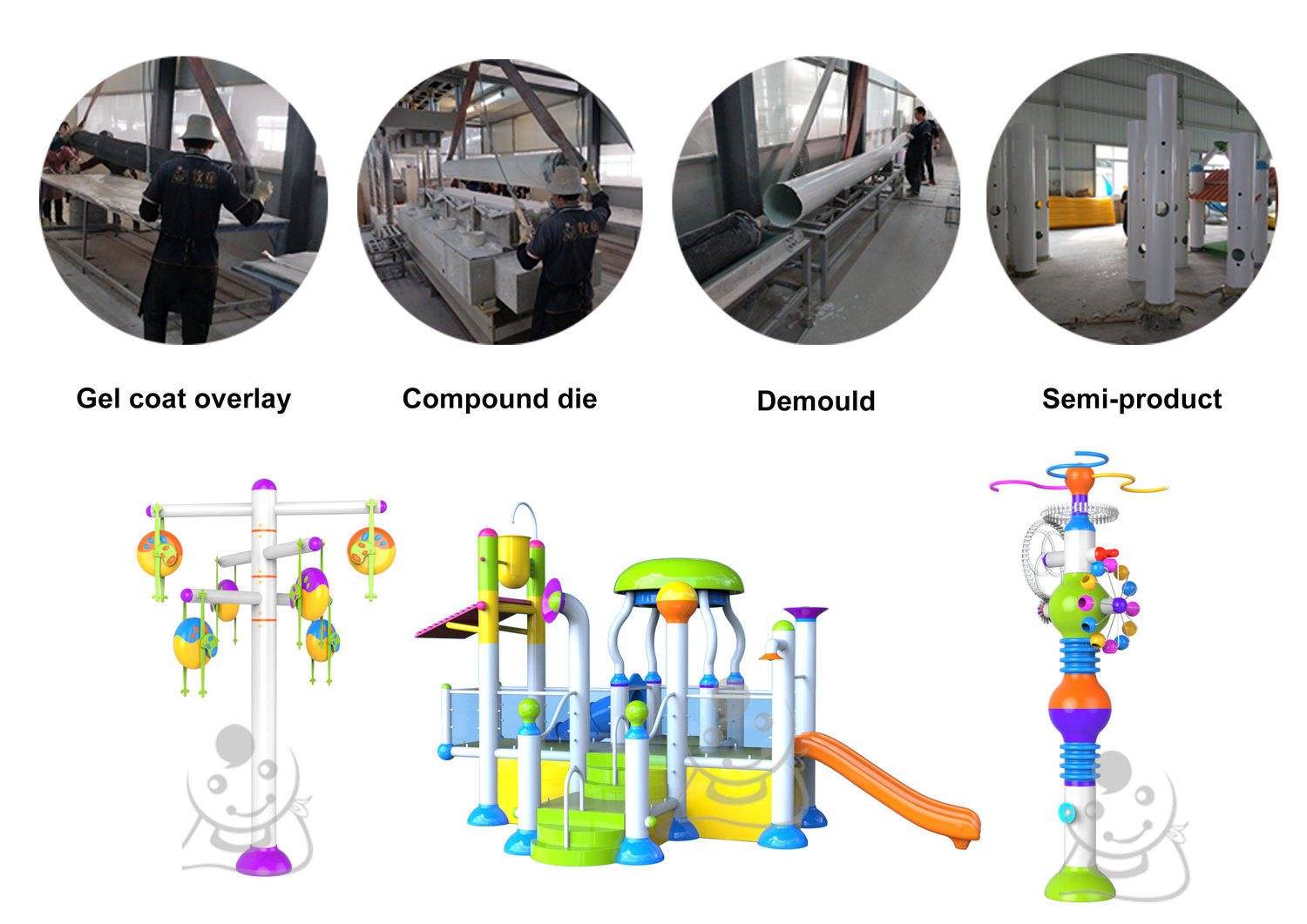 3: SMC Manufacturing Technique
The SMC material molding process is the highest production efficiency of the FRP / composite material molding process. SMC molding process has many advantages, such as product size is accurate, the surface is smooth, product appearance and size repeatability is good, the complex structure can also be a One-time molding, secondary processing without damaging products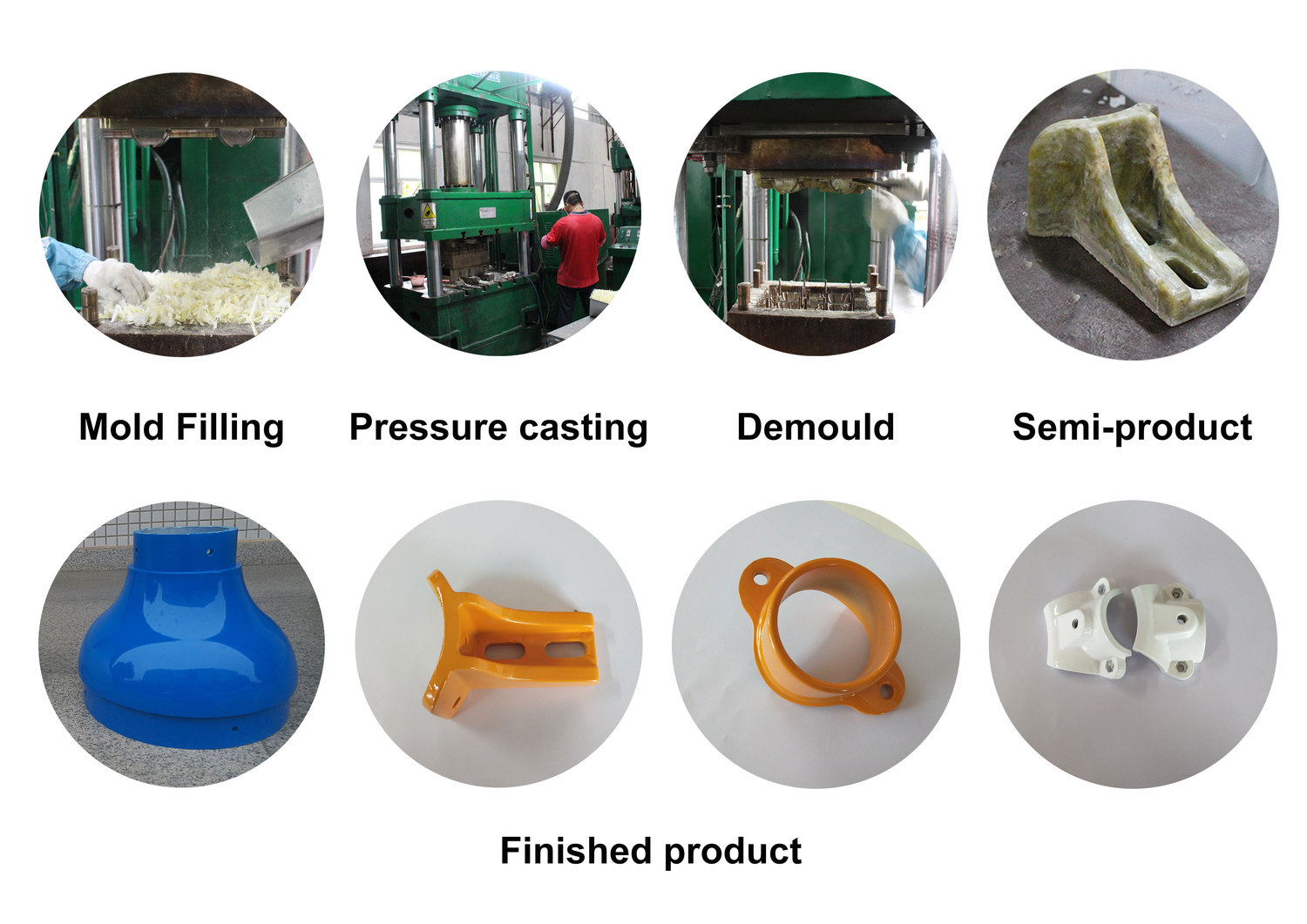 4: Recirculation Systems
Create a safe and fun splash pad without water consumption limits. Our industry-leading water quality treatment systems save millions of gallons of water annually, are easy to operate and meet or exceed local health department regulations. Choose from above-ground skid-mounted or underground vault systems.
Activation bollard Touch-post activator
Ground spray Flush spray-feature with nozzle effects
Embedded pod drain Drain-to-waste eliminates standing water in-ground spray pad
Collector box Main drain with dual-port collectssplash pad water to return to the tank
Drain-to-waste valve box Solenoid valve diverts rainwater to waste
Drain-line to waste Carrie's wastewater to the sanitary sewer system
Aqua play structures Above-grade spray feature with various water activities
Underground water-reservoir tank Pre-fabricated and pre-plumbed with water level control, inlet loop, floating skimmer and submersible pump-out system
Lockable man-way with ladder access Easy access for servicing water reservoir tank
Distribution manifold Pre-plumbed and pre-fabricated with winterization blow-out port
Manual valves Manually control each spray features height and distance
Feature-pump skid UL-listed, pre-fabricated and pre-plumbed with adjustable legs
Filtration skid and automated chemical controller UL-listed, pre-fabricated and pre-plumbed
Sand- or cartridge-style filter Available with sand media cartridges
System control panel UL-listed controls for the total system and feature operation, including hours of operation, duration, events sequencing and on/off controls
Main power supply Typically 460-230V, 3-Phase, 60Hz and 115/20V, Single Phase,60Hz
Chemical treatment pH-adjustment reservoir and pump
Water-fill supply Municipal water supply with a pressure regulator (20 to 30 psi) and back-flow preventer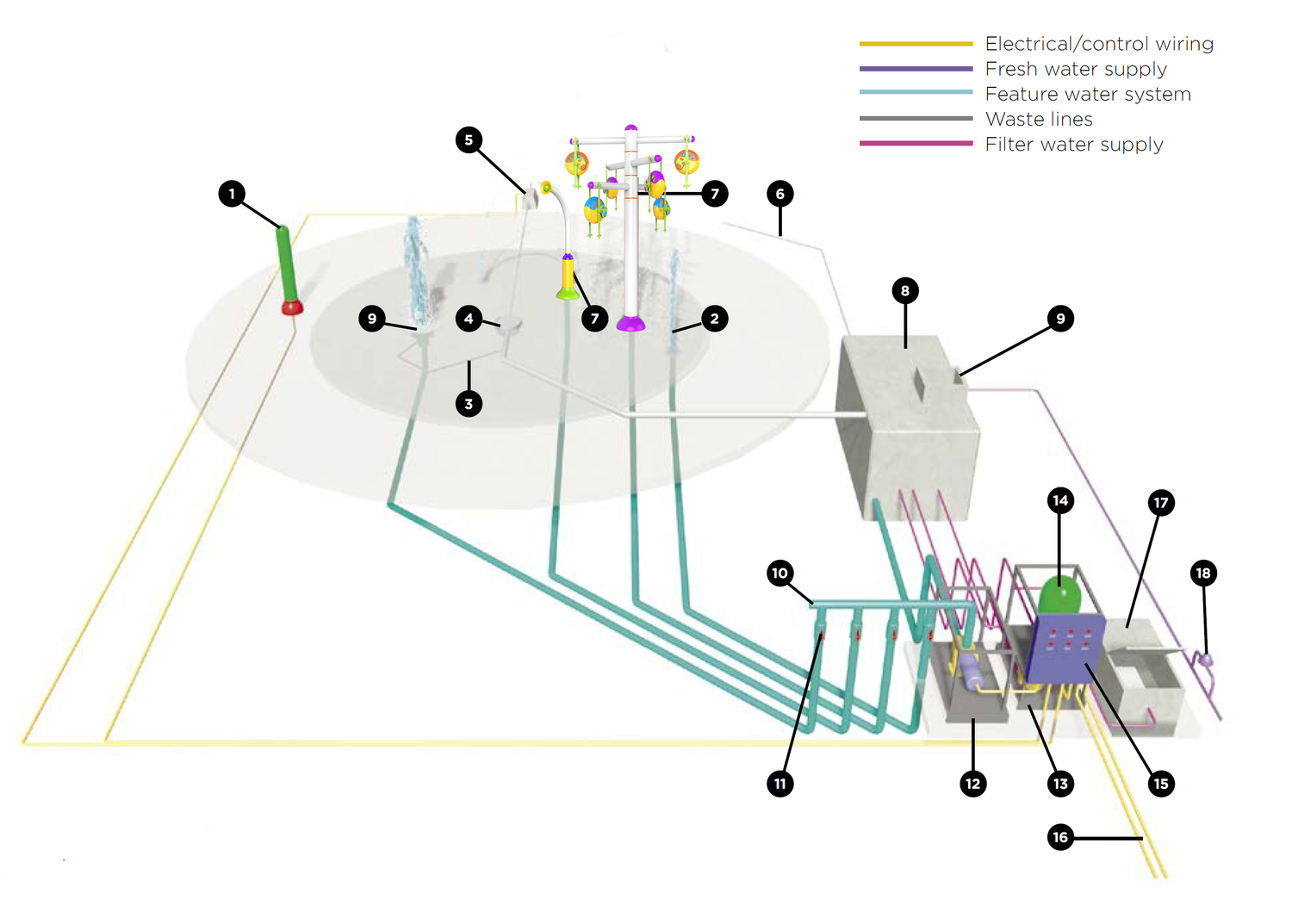 5: Planning and design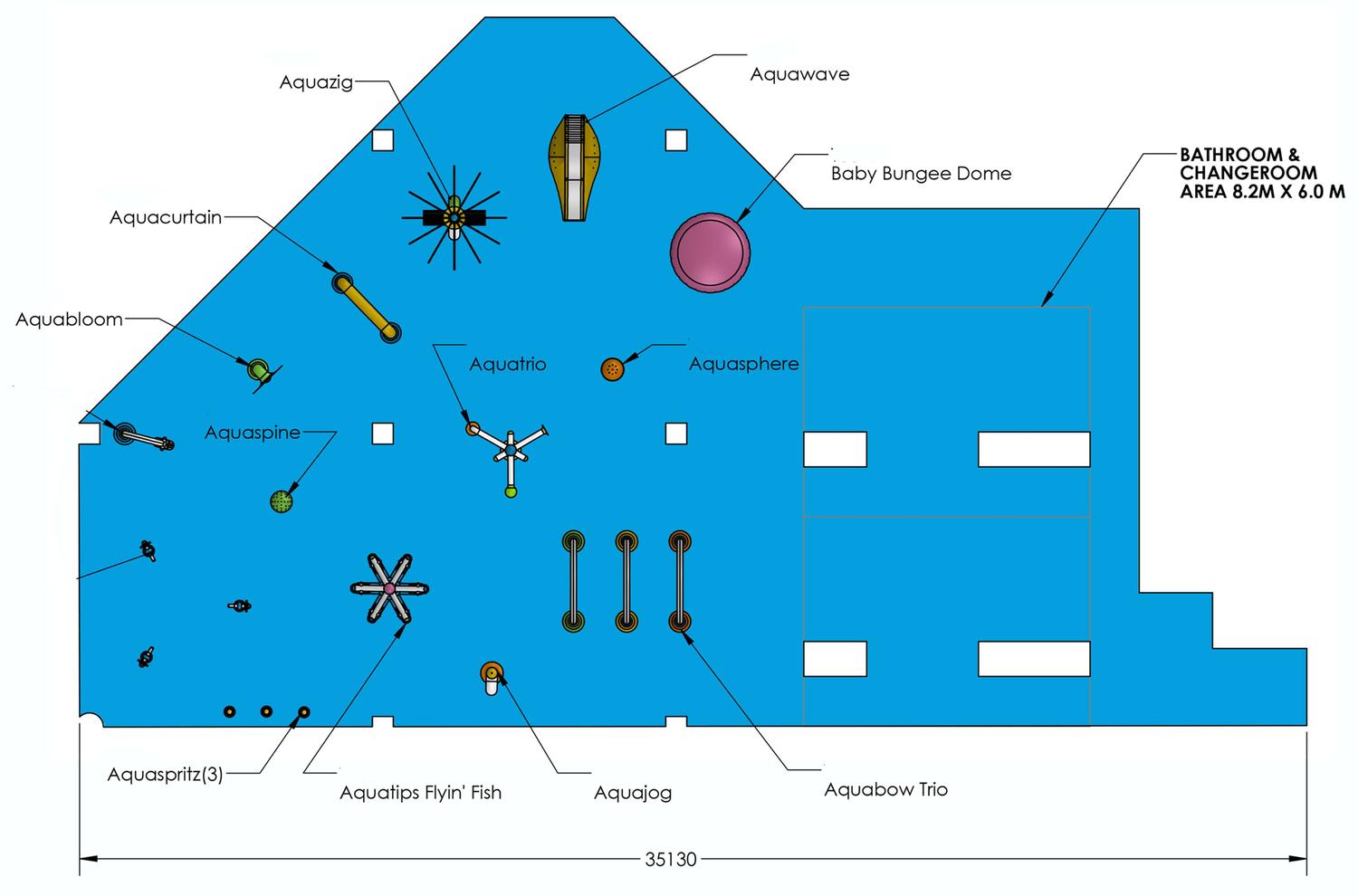 Cowboy is a water park equipment company, is focused on designing interactive splash pad and aquatic play products that encourage kids to experience water in unique ways. Combining General Recreation's knowledge and experience with aquatic play areas; and Cowboy engineering, design, and manufacturing capabilities makes us valuable partners on all of our clients' aquatic playground equipment projects.